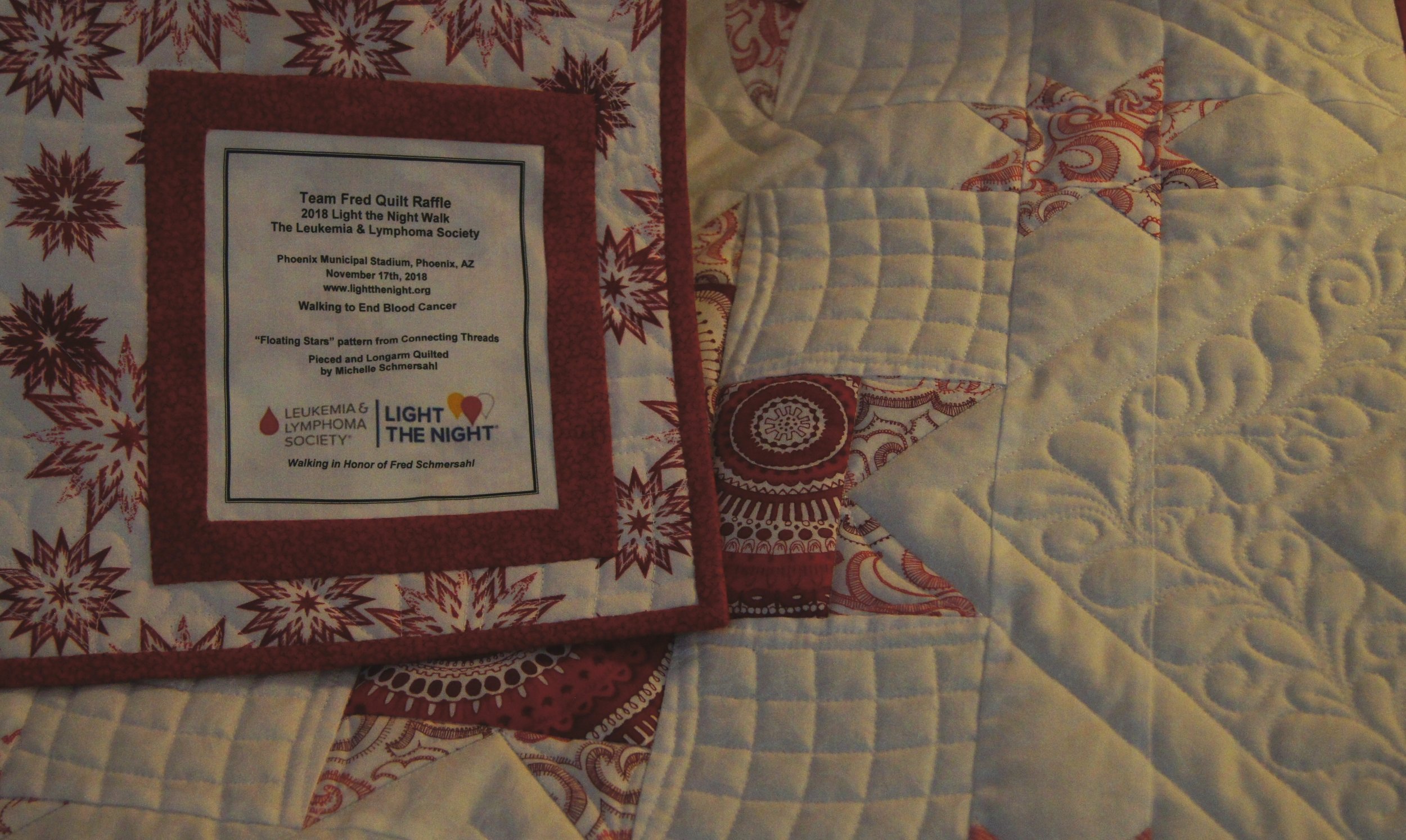 vickie ahlstrom is the winner of the quilt
congratulations, vickie!
2018 Light the night Raffle Quilt
Vickie ahlstrom is the winner!
Fred went to Heaven on April 16th, 2017. He had a blood cancer called multiple myeloma. No one knows where it originates. No one has a cure. By the grace of God, his cancer was found in 2004 after breaking a hip. Tests confirmed his diagnosis and we began treatment. Fred never achieved remission, so we continued to rely on God's grace to make new treatments available. He fought it for nearly 13 years.
We've received great support from The Leukemia and Lymphoma Society. They are a helpful resource to anyone with blood cancer, so we've been happy to give back. Team Fred has been participating every year in Light The Night Walks since 2005.
MY THANKS FOR SUPPORTING TEAM FRED … A CUSTOM QUILT RAFFLE
I'm happy to once again offer a custom quilt raffle as an extra incentive to donate to the 2018 Light The Night Walk. This 51" x 66" lap quilt was pieced and quilted by myself, Michelle Schmersahl. The quilt pattern is "Floating Stars" by MaryJo Tuttle from Connecting Threads. Aurifil cotton Mako thread was used exclusively in the construction and quilting. Earn one raffle entry for each $20 you donate on my page. A donation of $100 earns five chances in the raffle drawing. Follow the link below to donate and enter the raffle.
https://pages.lightthenight.org/az/Phoenix18/MSchmersahl
(You must donate on the above fundraising page to be entered in the drawing, not the Team Fred page, as I don't have access to that donation information.)
The winning name will be drawn at the Light The Night Walk on Saturday November 17, 2018. You need not be present to win. Shipping is included to anywhere in the continental USA. Anonymous donations are welcome, but please DO NOT donate ANONYMOUSLY if you want to enter this drawing. Raffle entry deadline is November 16th, 2018.
Please join Team Fred at the Greater Phoenix Walk
Saturday November 17, 2018, at 5:00 pm
Phoenix Municipal Stadium
5999 E Van Buren Street, Phoenix, Arizona 85008
http://www.lightthenight.org/events/greater-phoenix-walk
Continue moving forward in Faith, Hope and Love.